Last Updated on March 16, 2021 by ScreenPush
It is just not right to have the best gaming PC without pairing it with the best gaming keyboard. It is essential because top-notch gaming keyboards stand out, and they have been known to enhance gaming skills.
Nowadays, mechanical keyboards seem to be leaving the market, giving you a chance to purchase the best optical keyboard. If you are stuck on the type of gaming keyboard to invest in, worry no more, here are the top options you have when you want to get the best gaming keyboards in 2019.
6 Best Gaming Keyboards
#1. Razor Huntsman Elite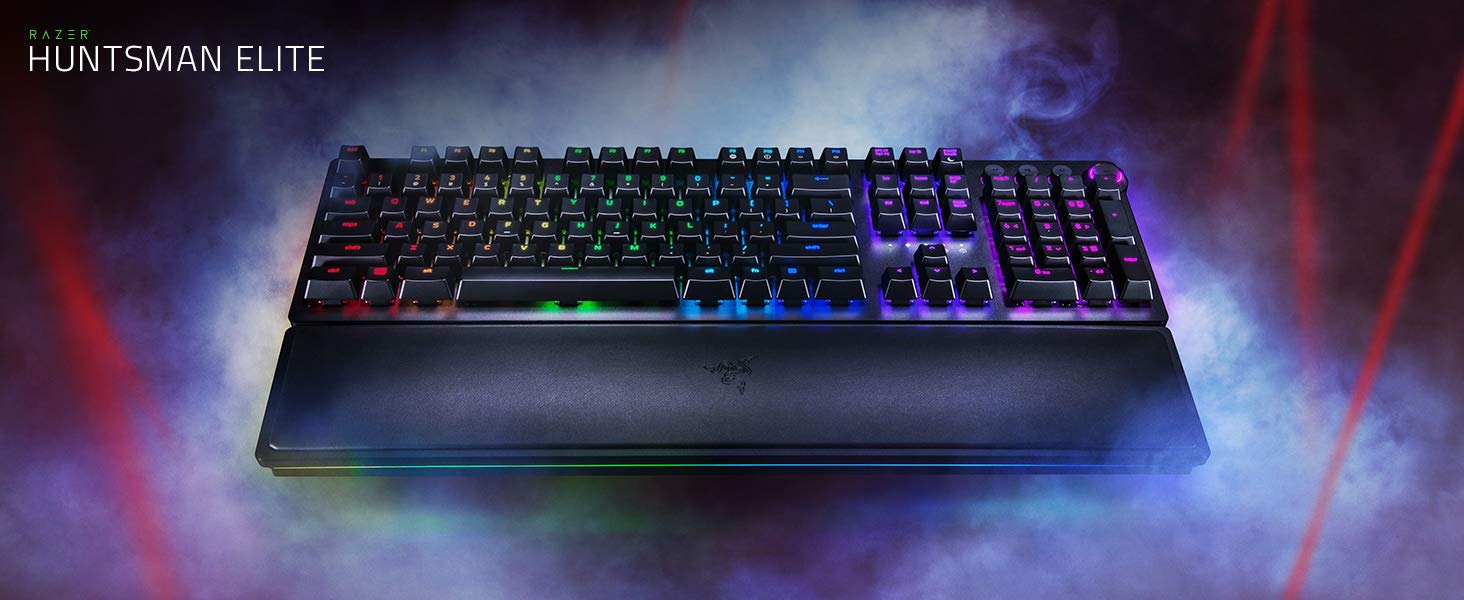 Razor has taken speed to the next level with the Huntsman Elite thanks to the outstanding optomechanical switches. This simply means that the keyboard integrates optical sensors with mechanical switches allowing the keyboard to take actuation to a whole new level.
Asides from this, you will feel good when typing on Razor Huntsman Elite. Additionally, the RGB lighting that covers the product is quite impressive. Note that this needs 2 USB cables to power without any pass-through. Even though this may set you back a few bucks, you will realize that it is worth it the second you start using this keyboard.
#2. HyperX Alloy Elite
At first glance, you may think that this is just a simple gaming keyboard. Even with simple aesthetics, it still features the most features you can expect from a superior gaming keyboard. You can choose from three colors i.e. Red, Blue, and MX Brown. Features you will enjoy with HyperX Alloy Elite include:
Dedicated media controls.
Detachable wrist rest.
USB passthrough.
Red backlighting.
An additional set of silver keycaps for the first 4 numbers and WASD.
With this full-size keyboard, you will never have a problem with key presses not registering because it supports comprehensive N-key rollover.
#3. Corsair K70 Lux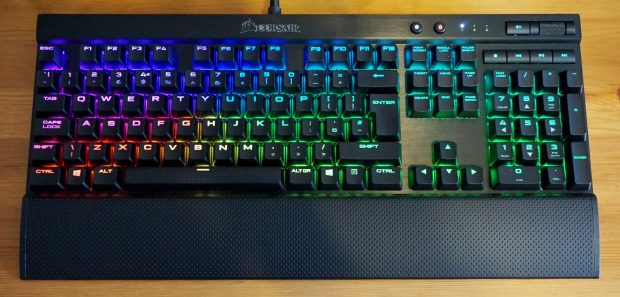 The keyboard's gorgeous aluminum chassis will grab your attention in an instant. Even though this is a mechanical keyboard it will feature on this list because it is an excellent all-purpose gaming keyboard.  Corsair K70 Lux comes with Cherry MX Blue switches that are both tactile and clicky, which means that you can easily use it for typing and gaming.
The product is backlit by an ominous stylish red that you can set to varying intensities. You can set the glow behind each key if you wish or just the home keys. Worth noting is that the keyboard comes with dedicated media controls and a USB passthrough port.
#4. Roccat Vulcan 120 Aimo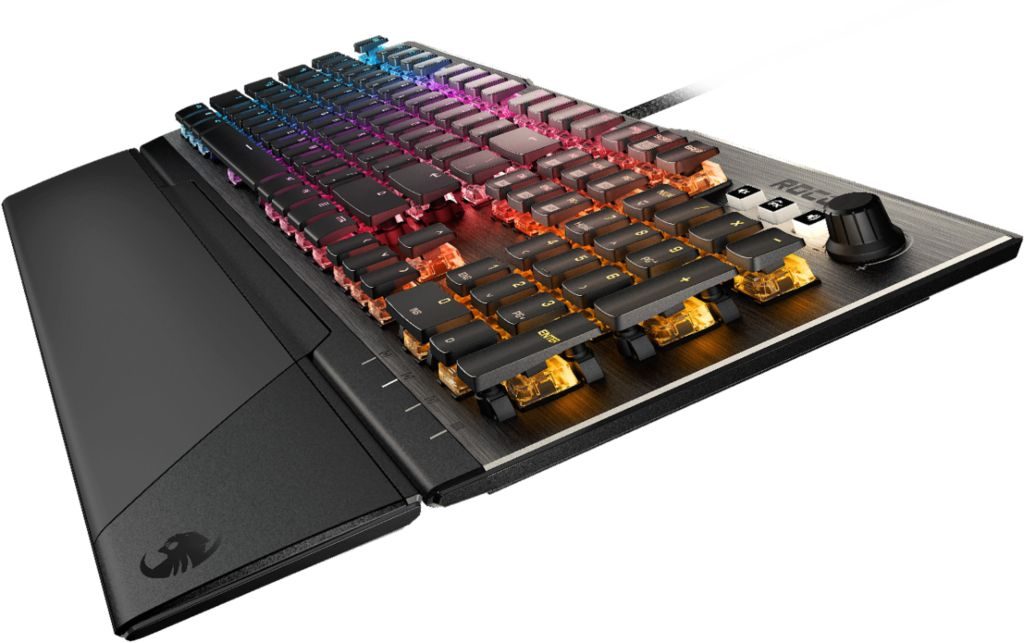 With a great mix of programmable keys, it can be hard to resist the Roccat Vulcan 120 Aimo which is excellent for gaming and PC tasks as well. The Titan switches boast of linear actuation and speedy input recognition as well as super-light caps all that combine delightfully.
Its bright Aimo lighting engine makes it one of the most appealing boards you will ever set your eyes upon. The keyboard's detachable wrist rest lengthy cable and the fact that i32-bit ARM Cortex processor powers this makes it a product worth checking out.
#5. SteelSeries Apex 100
Quick tension switches are one of the features that make the Apex 100 an incredible gaming keyboard. When you press regular keys, you will need to press them down all the way until it contacts the board.
However, with the quick tension switches, the design of the membrane pulls the key as soon as it travels halfway down so that you get a tactile feel as you are typing. It also features an LED backlight that helps the board to glow. Users get to pick from 4 brightness levels and you can also customize a couple of other effects.
#6. Logitech G513 Carbon
Boasting of Lightsync RGB technology from Logitech, this is one of the features that make the G513 Carbon keyboard standout. It has a snug palm rest and anodizes aluminum finish that makes it great to work on. You can choose between tactile and linear switch types. The switches of these gaming keyboards are rated at about 70 million keystrokes. This means that you will use this for a long time without any problem. With moderate gaming, it will take more than 150 years.
It is available in two color schemes i.e. silver and black. Worth noting is that the dedicated media/macros keys are absent. However, it does come with 12 extra keycaps replacements for function and WASD keys.