Last Updated on September 15, 2021 by ScreenPush
Technology advancements have improved communications & information sharing up to a great extent. It has mainly taken information sharing to a new level. You can share the information in the form of messages, texts, & documents in just a few seconds across the world.
Faxing is considered one of the most reliable sources for sharing documents. In the modern world, you do not need a fax machine to send or receive faxes; instead, you can use the internet to send a fax by Google by linking an online fax service number to your Gmail account.
CocoFax is one of those reliable sources used for Google faxing. It is a free online fax services provider, which is used by many professionals to send receiving faxes. Many organizations, small businesses, multinational companies, house brands, & even laypersons use CocoFax for sharing confidential documents.
CocoFax: Send Fax Online 
Say goodbye to your traditional faxing machine & send or receive the faxes online faxes using CocoFax. It provides you with everything you need related to faxing whenever or wherever you are? With CocoFax, you do not have to worry about the busy fax lines, international faxing cost, maintenance cost of fax machines, ink or toner costs, storage of your faxed documents, & vice versa. Here are a few advantages of using CocoFax.
It saves you time and money by sending the fax using the internet in just a matter of a few seconds.
As soon as you sign up, you are provided with a 30-day free trial period.
It allows you to save your faxes permanently in the dashboard free of cost.
CocoFax is compatible with all devices, no matter if it is a laptop, PC, mobile phone (iOS & non iOS), or Mac.
It is an end-to-end encrypted service & allows you to share your sensitive information or confidential documentation without worrying about privacy invasion.
It has a user-friendly interface, so you do not need any expertise to send or receive faxes.
How to Use CocoFax for Google Faxing?
Google has a number of products that & Google faxing is one of them. To send a fax from Google, you need a Google fax number which is obtained from any online fax service provider. As we are talking about CocoFax, to get a fax number for free, you need to log into the official website of CocoFax & fill in all the necessary information. Once you do, you are provided with a fax number.
Once you have the fax number, you can attach it to your Google mail or Gmail for sending or receiving faxes. These faxes are transmitted over secured transmission lines (through the internet). In short, all you need is a fax number, your Gmail account, a device connected with a secure internet to fax the documents from Google.
Follow the steps given below for Google faxing through CocoFax.
As we have discussed above, the first step is to get a fax number by signing up for CocoFax's website. Make sure to register with your email address in order to proceed with the fax through email.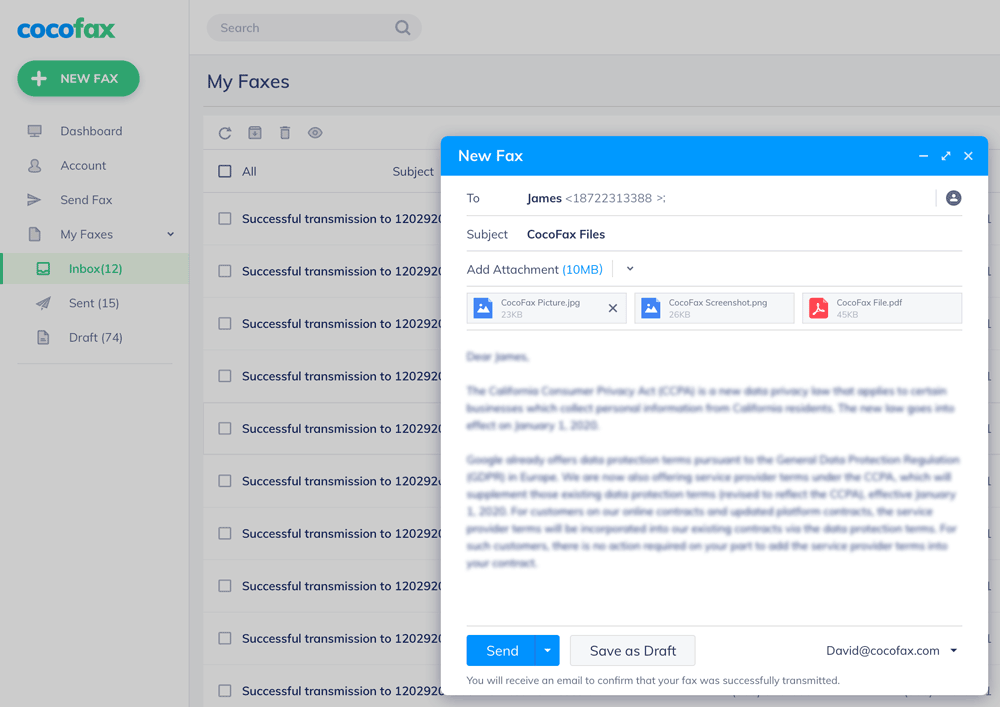 Once you are done, go to your email account. Click on "create a new email." Write the fax number of the receiver followed by "@cocofax.net." Follow the sequence:
Country code + fax number + @cocofax.net
In the subject section, write any keyword or phrase that you want to appear on the top of your document. In the body, write details about your document. Note that this section is not mandatory to fill. You can leave it empty if there is nothing to write.
Now attach the documents by clicking on the "attachment" sign present below. Click on the "send button" to send the fax. Once you click on the send button, CocoFax will receive your documents & message & transmit them in the form of signals.
Once your message is received on the other end, you will receive a notification. Or if it fails to receive on the other end due to some reasons, you'll be notified as well.
Bear in mind that sometimes when the fax machines are busy or switched off, it results in unsuccessful faxes. So the CocoFax has nothing to do with the failed faxes.
Features of Google Fax Services
If you use the Google Fax service with CocoFax, you are very much likely to enjoy extra features and services. Here is what it generally offers you:
Reliable and Secure Services
Coco faxes are an end to end encrypted. It means that any third party does not assess all the information you shared. When you click on the send button, your documents are received by CocoFax, and it converts them into digital signals for transmitting them to the receiver. No matter if you have any confidential documents or passwords to share, you can freely fax them.
Permanent Cloud Storage
The CocoFax dashboard allows you to save your faxes permanently. These factors can be used later anytime you want. You do not have to pay extra charges for the storage you are provided with.
Send Multiple Files
One of the significant benefits of using CocoFax is that you can send multiple files in the same fax. You can also send them in multiple file formats such as Google document, PDF, PNG, and JPG.
Scheduled Delivery
Unlike the traditional fax machines, CocoFax sends and receives faxes in minutes. Moreover, you are notified about any incoming taxes and the ones being sent from your account.
Compatible for all the Devices
CocoFax offers fast and high-quality fax transmission. It is compatible with all the devices irrespective of their model and software. Moreover, it is accessible from all over the world.
Portability
Google fax shifts portability to the next level. You can log into your Google account from any device using any internet connection.
In a nutshell, it offers you all you need from an online Fax service provider. You can explore more features by logging into the CocoFax website.