Last Updated on November 27, 2021 by ScreenPush
With 293 million daily active users in 2021, Snapchat is one of the leading social media platforms. The tiniest glitch can cause trouble to Snapchat users, considering so many users around the world. Snapchat loading screen error is the most common issue for Snapchat users. It can be frustrating and annoying when you see Tap to load screen, and it does nothing no matter how many times you tap on it. Since it's very a common issue, in this guide, you will see different fixes to resolve the Snapchat loading screen or tap to load screen issue.
How to Fix Snapchat Loading Screen or Tap to Load Screen
Poor internet connectivity is the main reason why users get a 'tap to load' screen error. The followings are fixes we can apply to resolve this issue:
Restart You Phone or Use Airplane mode

Check/Switch Internet Connection

Clear Snapchat Data and cache

Reset App preferences

Check Snapchat Update

Turn off Data Saver Mode

Clear The conversations

Re-Install Snapchat

Re-Add your Friends
Now, let's explain each fix step by step.
#1. Restart Your Phone or Use Airplane Mode
Sometimes a simple restart can solve the most challenging issue. Before you panic, restart your mobile phone and check if it's still showing tap to load screen or not. Restart allows your phone to fix all minor errors. 
You can also put your mobile phone on Airplane mode. To see if it works, keep your mobile phone on Airplane mode for 10-15 seconds.
#2. Check/Switch Internet Connection
As mentioned before, the main reason for Tap to load screen is internet connectivity. Your internet might be too slow to download the snap. If you are using a Wi-Fi connection, make sure you are getting a strong Wi-Fi signal. You can also change your connection from Wi-Fi to a data network connection. Switch to the strong connection, either Wi-Fi or network data.
#3. Clear Snapchat Data and Cache
Cache and heavy data in the app can cause issues with smooth app operations. You can use two methods to make Snapchat smooth and clear the Data and Cache.
Clear Cache via Snapchat
Click on the profile icon.

Tap on the setting option.

At the end of settings, under Account Actions > Clear Cache
Clear Cache via Settings
Go to Setting in your mobile phone.

Tap on Apps and Permissions

Go to Manage Apps

Select Snapchat from listed apps

Under Storage, you will see a Clear Cache option.
#4. Reset App Preferences
Go to Settings

Apps and Permissions

Manage Apps

In the top right corner, there is a drop-down menu, tap on it.

Select Reset App Preferences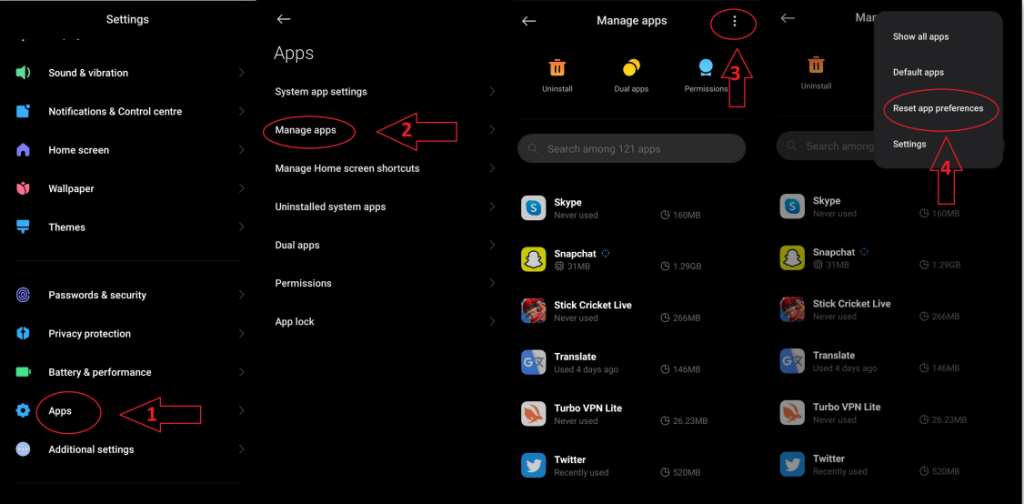 It will set all apps settings to default so if there was an issue with app settings it will be sorted.
#5. Check for Snapchat Update
Play Store
Go to Play store

Click on your profile.

Manage apps and devices

Manage

Updates Available (If Snapchat update available, update it)

IOS
Apple store,

Profile icon

App updates available

Update Snapchat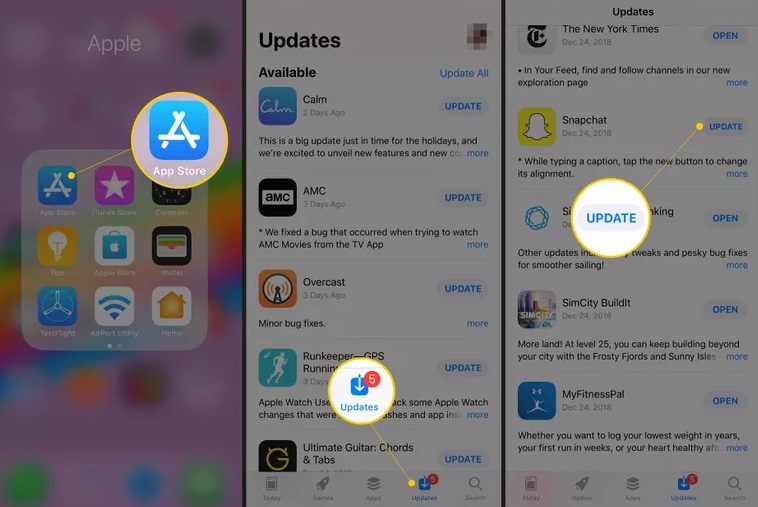 #6. Turn off Data Saver Mode
Data saver mode prevents high use of data. So, for example, it might be possible that the tap to load screen is because data saver mode prevents the use of data to download that specific snap.
Open Snapchat

Profile icon > Settings

Tap Data Saver

Uncheck the box next to the Data Saver option.
#7. Clear the Conversation
You can clear your friends' conversations of whom you are facing a Snapchat loading screen issue.
Tap on the chats,

Tap on the profile of a friend you are facing tap to load screen issue with,

Top right corner tap on the drop-down menu

Select clear conversation
#8. Re-Install Snapchat
If nothing works for you in above mention method, you can always use the option of re-install. So, uninstall the app and install it again from the Play Store / Apple Store.
Nothing will happen to your snaps; others still can see your snaps while you delete the app. You can also see the Snaps others send you once you re-install the app again. You will see your friends' stories, and your friends can see your stories if you manage to install the app within 24 hours.
#9. Unfriend and Add Friend again
Though it may seem very extreme, it is still an option you can use.
Go to your profile,

Scroll down to my friends

Tap and hold on to the friend you want to Re-friend until a screen pops out

Tap on More > remove friend
After that, you can have a new list of friends.
#10. Check if Snapchat Server is Down
With the massive amount of daily active users, sometimes servers can crash or cause a glitch. Before reaching any conclusion, make sure to look around on other social media platforms to see if the servers are down. It has happened to major social platforms like Facebook, Instagram, etc.
Conclusion
Snapchat loading screen issues can be very irritating and frustrating. You can apply these methods, and indeed your issue will be solved. Snapchat users are growing day by day, so there can be a possibility of some technical issues with more users. Hopefully, this guide will help you solve your tap to load screen issue.
Read Also: How to change Snapchat location