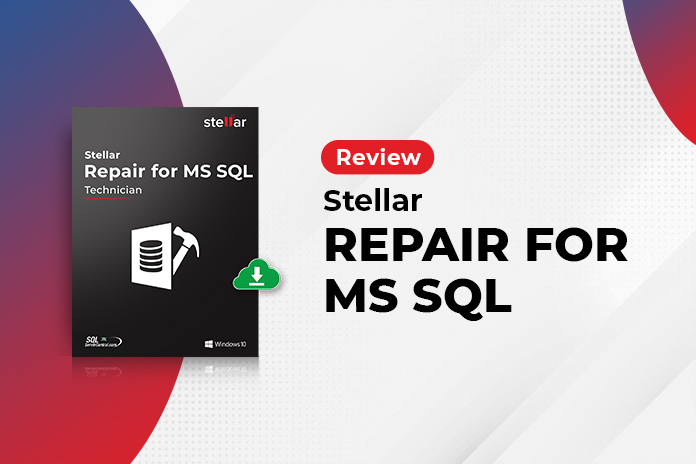 Last Updated on May 21, 2021 by ScreenPush
Without any doubt, stellar repair for MS SQL is the most recommended software nowadays. This extraordinary application supports 2017 and all coming versions. We all face problems in professional settings when our precious data gets misplaced. But here is the amazing tool which can serve you a lot in your record-keeping and database issues. This is why we have analyzes this product greatly to tell you everything about this. So let's start the review of Stellar Repair for MS SQL.
Key Features:
Recovers SQL Database Objects
MDF and PDF File Recovery
Recovers Deleted Records from SQL Database
SQL Database File Saving Options
Options to Scan and Recover SQL Database
Recovers ROW and PAGE compressed Data
Previews Recoverable Database Objects
Selective Recovery of SQL Objects
Search Items & Reconnect Automatically
How Stellar Repair for MS SQL Software Works
Step 1:  It is the main interface of SQL database repair software i.e. Stellar Repair for MS SQL.
Step 2:  Here, you can select a corrupt database file using 'Browse' or 'Search' options.
Step 3: SQL database repairing process is going on.
Step 4: Now, you can see the preview of database components. If you want to save the repaired database, then click on the 'Save'.
Step 5: You can save repaired database file in desired file formats: MDF, CSV, HTML & XLS
Step 6: This software gives the option to save repaired database in 'New Database' or 'Live Database'
Step 7: The database file has been saved at the desired location.
Feature Overview
Recovers SQL Database Objects:
The SQL recovery tools recover keys, indexes, tables, views, triggers, store procedures, user-defined functions, and many more. It also supports the recovery of sparse columns, column set property, and file stream data type.
MDF and NDF File Recovery:
MDF is the primary data file while NDF is the secondary data file. Many times SQL server corrupts the data files and this messes with the MDF and NDF files. Their record is lost and it makes the data inaccessible and inconsistent. But SQL recovery software can amazingly repair this corruption in files.
Recovers Deleted Records from SQL Database:
The SQL recovery tool can also recover deleted table records from all the corrupted SQL databases. It recovers the file without affecting the existing file so you can easily differentiate between the previous and repaired file.
SQL Database File Saving Options:
This amazing software gives you the option for saving the repaired file in different formats such as MDF, CSV, CLS, and HTML.
Options to Scan and Recover SQL Database:
It requires two options to scan and recover the files. One is standard scan mode and the other is advanced scan mode.
Recovers ROW and PAGE compressed Data:
This tool can also recover ROW and PAGE compressed data. It also supports a standard compression scheme for Unicode. Moreover, it will recover all the data in its original form.
Previews Recoverable Database Objects:
It scans all the data and then finds out the recoverable data. After this, it displays the data in a tree-like form. This preview thing can help you to take a look at your recovered contents.
Selective Recovery of SQL Objects:
You have the option of selective recovery of your SQL objects. After your selected objects, it will save them by default in your defined location of the system.
Search Items & Reconnect Automatically:
It also provides a feature of find items and you can get facilitated with it by searching out your intended items.
Windows and SQL Server Authentication:
This recovery software will allow you to have the configuration of SQL server for using SQL authentication and windows authentication.
Saves the Scan Results Automatically:
This is a very important feature because if you resume your file repair process then it would automatically save the file without making you scan the MDF file again.
Stellar Toolkit for MS SQL:
This software has a toolkit which is 3 in 1 specialized suite which comprises of tools for repairing, SQL data file, user passwords, and reset SQL server admin.
Recovers SQL Database on Windows and Linux Systems:
It can also recover SQL databases on Windows and Linux systems without causing a waste of time. It runs quickly to perform this function.
Restores Database in SQL Server 2019 and Beyond:
It helps to restore inaccessible and corrupt data from SQL server 2019 and beyond.
Pros and Cons
Pros
It can restore all deleted records.
It can save data in a new form of created tables.
It can save repair data files in various different ways and formats.
Repair corrupted MDF and NDF files.
Its older version is also very good to work with.
Provides preview facility in its demo version.
It is very easy in establishing a connection with the SQL server
Its saving process is very fast
Cons
It should be installed in the same device on which the corrupt MSSQL database is present.
Conclusion
A detailed analysis of this software has confirmed that it effectively works for changing and repairing corrupt MS SQL databases and files. And within some minutes it can recover all the components of data files. The more distinct thing about this software is that it can resolve the issue of Microsoft database corruption. It is highly easy to use for both beginners and technical users. In fact, non-technical people can easily learn to use it. This SQL recovery tool helps to have all database recovery solutions and there is no compromise on database integrity. Such tools are a lifesaver in the world of business, technology, and record keeping.