Last Updated on September 9, 2023 by ScreenPush
The eCommerce sector is slated to experience a dramatic increase in revenues every year. ECommerce websites have been recording a high growth rate of 25% on average for the years between 2014 and 2017.
This industry is dynamic, and one that has been constantly shifting gears to keep up with the changes in the buying behavior of people all over the globe. So, the future of eCommerce websites is one that is both exciting and interesting. Some of the most noticeable changes predicted in the future of eCommerce websites have been discussed as follows:
#1. Increased Device Usage
Device usage is expected to increase even more as buyers will be investing in newer devices to shop online. Unlike earlier, when an eCommerce website would create shopping experiences for customers using desktops exclusively, now, every site wants to build an online store keeping mobile users in mind. Incidentally, almost 45% of all purchase decisions are expected to be made via mobile devices by the turn of this decade. It goes to show how important it will be to make eCommerce sites mobile-friendly in the years to come.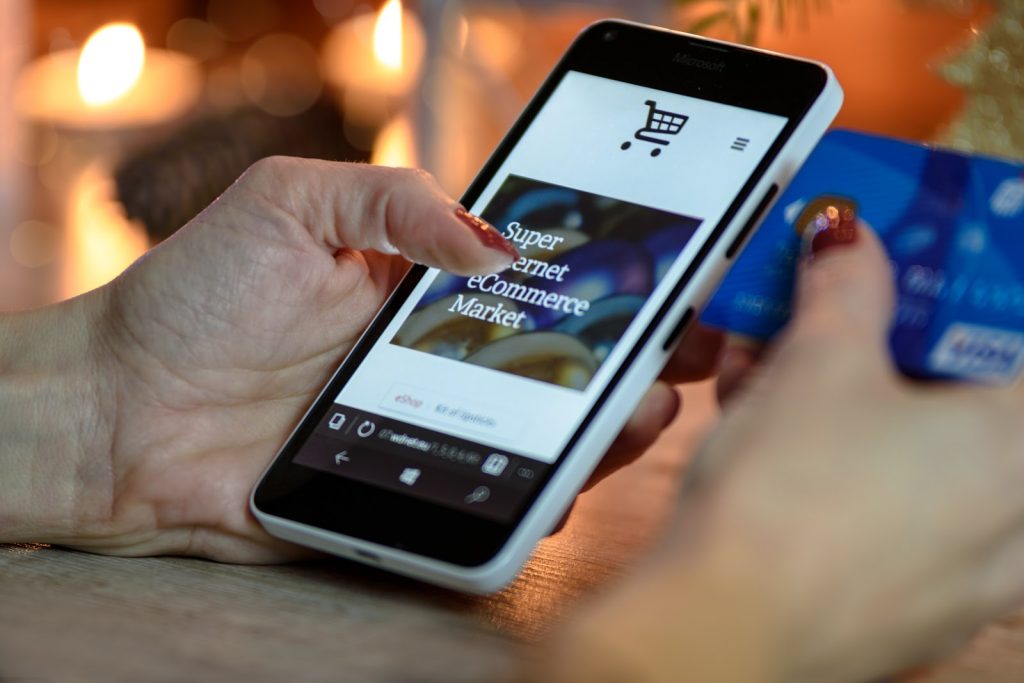 #2. Growth of New Markets
Countries like India, China, and Russia will be emerging markets, and nearly 3 billion buyers from these markets are going to have access to online shopping sites by the next two years. The good thing is that many of these markets are still untapped by eCommerce websites. So, the opportunities for businesses to expand and target new audiences will be high.
#3. Customer Engagement
Unlike traditional retail shopping, an eCommerce website will not engage in face-to-face interaction with its customers. There is no clerk to advise you on what to buy, according to your needs, budget, or preferences. However, to replicate this experience, online retailers opt for personalization opportunities to give their customers a satisfying shopping experience. This experience is made possible by reviewing personal online data like page visits, purchase history, search queries, etc.
For example, if you log into your Amazon account, you are going to find products recommended based on your previous purchase history. It is seen that buyers will spend a lot more when their shopping experience is personalized. Also, customers are not reluctant to share private information when they realize that this data can benefit their future shopping experiences.
#4. Emergence Of AI, Chatbots, and Assistants
Robots are expected to invade eCommerce sites in the future. These are designed to improve the customer's shopping experience. For instance, AI can manage tasks that have been traditionally assigned to humans, far more easily and deftly, like managing the store inventory. Since digital assistants are going to be conducting business operations, you will get more free time to work on other key business areas.
#5. Rise In B2B Commerce
It is believed that B2B companies are going to leverage future eCommerce trends, and sales are expected to rise to $6.6 trillion by next year. ECommerce personalization is working for B2B shoppers, and reports suggest that almost 50% of buyers now want the personal shopping experience.
#6. Interactive Product Visualization
Customers today want to interact with a product before they buy it. Online reviews are no longer enough, buyers want to have a feel of the product. This experience is going to be possible through augmented reality, virtual reality, and 3D imaging technologies. In a very short period, it has all become how better an experience an eCommerce platform is able to give to its customers.
This is a major reason why the leading brands in the niche are looking to work with the Best UI/UX Design Agencies in New York. The attempt is to create as realistic an experience on a desktop or a smartphone as can be achieved. The progressive use of 3D, AI, AR, and VR and integrating them with the UI and UX of the website or app is the major challenge in this area.
#7. More Customized Retail Experiences
ECommerce is definitely not eliminating physical stores. But, these stores are now embracing a new way to reach out to their audience. Today's brands are creating immersive experiences for their buyers to boost sales and develop long-lasting client relationships. Amazon, for instance, is launching stores named 4-Star, where you get to interact with its devices and products in person. So, new companies are now opting to become brick-and-click stores, where one can get a unified eCommerce and retail experience.
Interactive product visualization offers buyers the chance to see, feel, and experience products before purchasing interactive product visualization offer buyers the chance to see, feel, and experience products before purchase.
So, the future of eCommerce websites is still largely dependent on marketing, as, without it, only exceptional products alone can drive up sales. So, adapting to new marketing trends, such as making websites more mobile-responsive, is necessary.
Content marketing is also expected to become more effective when it comes to catching the attention of prospective customers. Good content will convince buyers about products, and this is a sure marketing advantage. Today's buyers expect to have that personal touch offered to them in the form of curated discount codes, or personalized emails. As many as 41% of consumers have left companies they were loyal to, for a lack of personalization.